Coal Biomass Fired Thermal Fluid Heater Boiler
Flame and high temperature smoke produced by complete burning of fuel (coal, biomass, etc.) exchange heat with organic heat transfer media in the pipe by radiative transfer and convection transfer, at the same time, the organic heat transfer media is circulating in the system pushed by the pump. And then the using-heat equipment takes heat from the media, which goes back to the thermal fluid boiler after heat exchange. So thermal fluid boiler is an organic heat circulation system.Because of working in liquid state, the thermal fluid boiler is safe and reliable. Owing to thermal fluid boiler characteristics of high heating temperature, low working pressure, energy saving, thermal fluid boiler could be widely used in a variety of industrial heating process.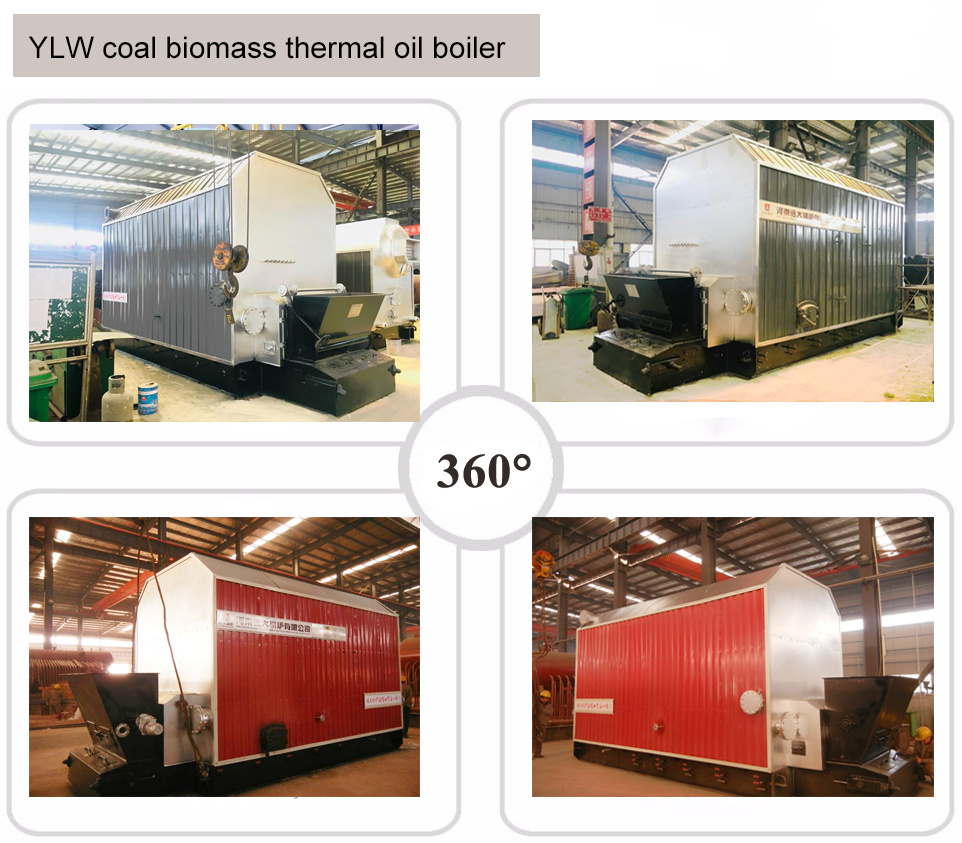 Part2.Coal Biomass Fired Thermal Fluid Heater Boiler Technical datasheet
Item
Unit
Boiler model
YLW-700
YLW-1400
YLW-2400
YLW-2900
YLW-4200
YLW-7000
Rated capacity
KW
700
1400
2400
2900
4200
7000
Rated pressure
Mpa
0.8

Output temperature

ºC
280/320

Input temperature

ºC
250/290

Circulating flow

m3/h
45.7
87.4
149.8
155
225
383.467
Heat carrier volume
m3
0.46
1.19
2.08
2.73
4.36
7.06
Thermal effiency
%
80
80
81
82
83
83

Applicable fuel

coal and biomass

Fuel consumption

kg/h
187
373
621.3
756
1189
2052

Exhaust temp.

ºC
224.8
201
166.02
167.8
142.96
137.12
Size
mm
4800×2100×2900
6050×2530×3460
6300×3100×3750
6970×2730×3760
8800×3410×5110
10100×3300×2860

Weight




Ton
16.9
22
28.6
24.2
30
18.2

Notice




1. As the palace is limited, we only list part of our coal/biomass fired boiler models.If what you need is not in the datasheet, pls send us inquiry for specifics.

2. the pharmater is for reference,of technology is improved, please refer to the data showed on general drawing.
Part3.Coal Biomass Fired Thermal Fluid Heater Boiler Features
1. The boiler has low working pressure, high safety performance and long service life;
2. Multi-circuit coil design, high safety, big heating surface and high thermal efficiency;
3. Adopting the countercurrent heat exchange process, the heat transfer effect is good, and the exhaust gas temperature is low;
4. With complete operation control and safety monitoring device, it can precisely control the working temperature and ensure the safe operation of the boiler;
5. The tail can be equipped with a variety of energy-saving devices, which can generate steam/hot water/hot air and other heating medium by using boiler exhaust gas, which is energy-saving and efficient.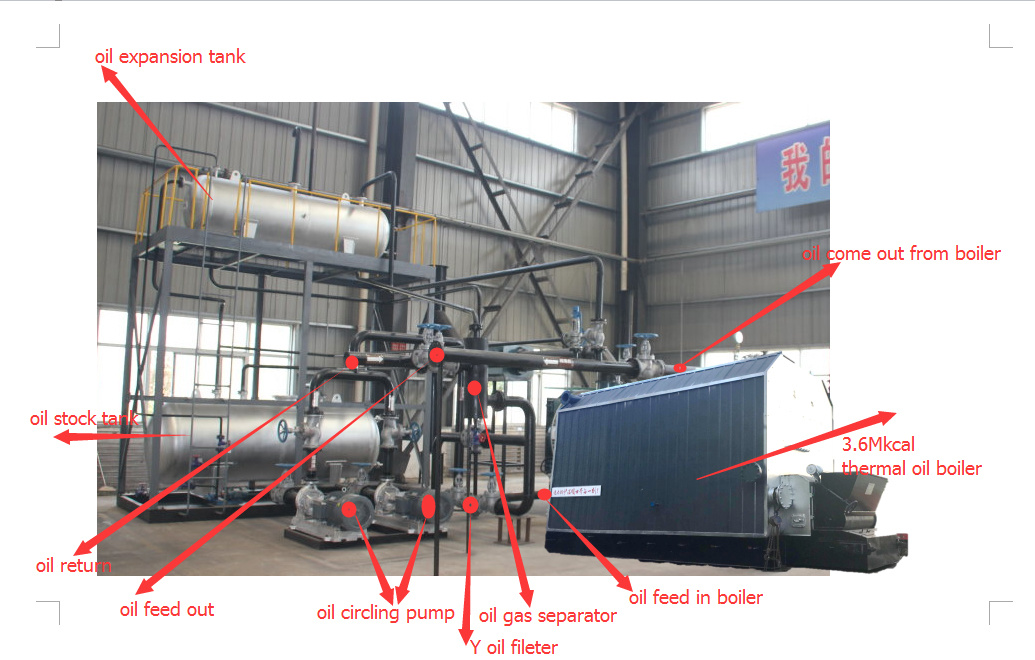 Part4.Coal Biomass Fired Thermal Fluid Heater Boiler Running process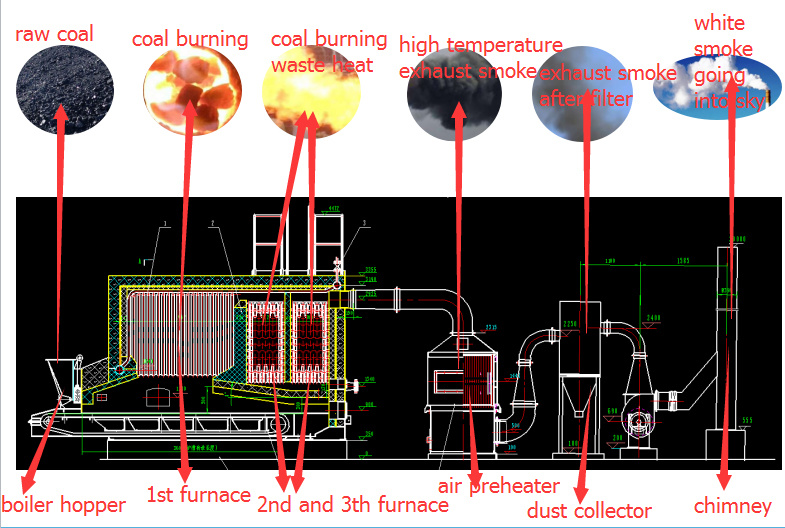 Part5.Coal Biomass Fired Thermal Fluid Heater Boiler Adaptable Industrial Fields
Wood industry: Drying and forming of beaver board, shaving board, laminated sheet, etc.
Building industry: Asphalt dissolution, concrete heating tank, waterproof material, felt production, etc
Textile dyeing and finishing Industry: Heat setting, textile printing, ageing, drying, etc.
Plastic and rubber industry: Hot pressing, calendering, extrusion, vulcanization, artificial leather processing, etc.
Chemical industry: Polymerization and condensation reaction, distillation, rectification, concentration, evaporation, fusion
Oil production industry: Decomposing, deodorization, oil acid distillation, hydrogenation and esterification reaction, etc.
Part6.Coal Biomass Fired Thermal Fluid Heater Boiler Typical projects
7000KW(6,000,000kcal) coal fired thermal oil boiler for plywood factory.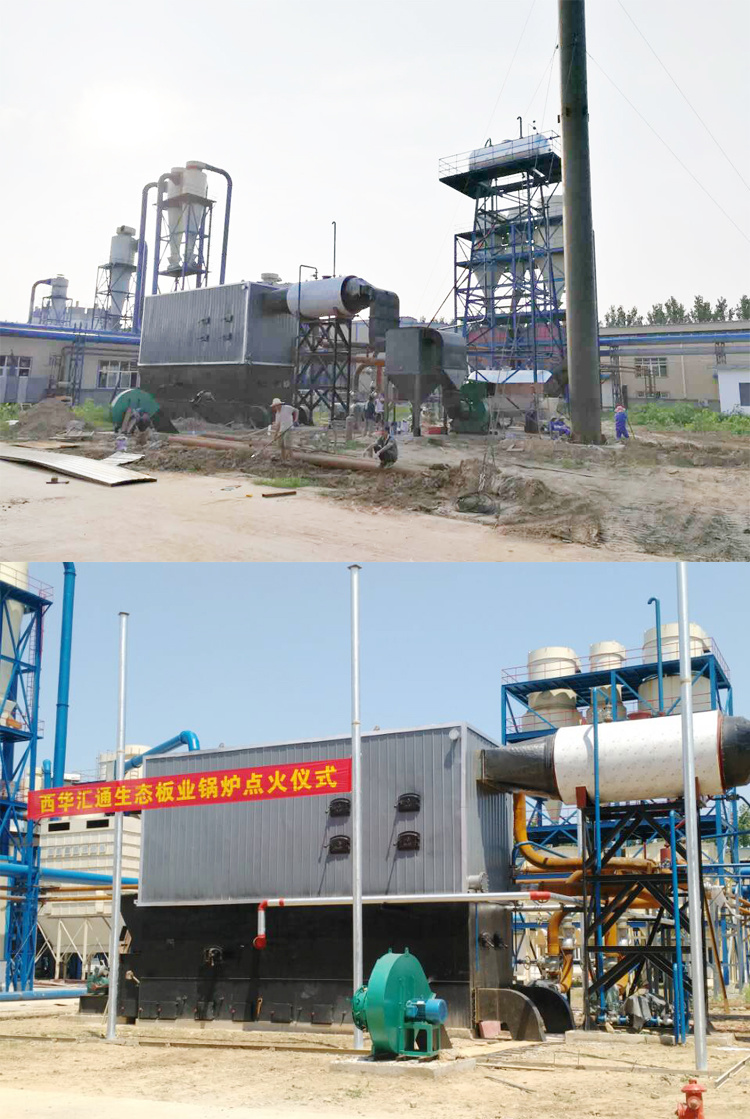 Part7.Coal Biomass Fired Thermal Fluid Heater Boiler Packaging & Shipping
Yuanda Boiler Packaging & Shipping, Trade Terms:
1. Way of delivery: by Sea or Railway or truck based on needs
2. Shipping model: by normal container and flat rack or bulk cargo based on goods, we can suggest the container
3. Customers specifying freight forwarders or we send bottom shipping price from our forwarder partner for your reference, negotiable shipping methods
4. Packing: nude for boiler main part in nude, accessories in export-use wooden box
5. Payment Terms: T/T, LC; 30% deposits; 70% balance before delivery.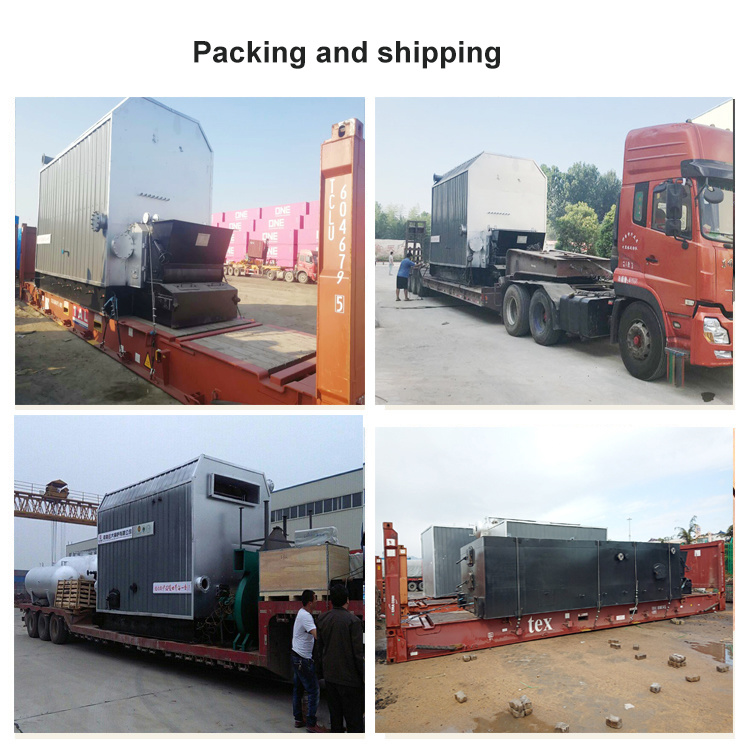 Part8.Our Services
Pre-sale service:
We help customer choose the best boiler model according to different requirements of various industry. Before delivery we will provide foundation drawing, layout drawing, boiler room layout, etc.
In-sale service:
We keep 24 hours online and keep close contacts during the production process to ensure on time delivery with perfect finished product.
After-sale service:
1.provide full range of original spare parts.
2.We will send engineers to your local project site to guide the installation and commissioning.
3.Our engineers will held a training for boiler workers to ensure the safe operation.
4.Free maintenance and repair for one year and lifelong service.
Part9.Company information
Henan Yuanda Boiler Co., Ltd,Class A boiler manufacturer from China. professional for industrial boiler and pressure vessels manufacturing. Established in 1956, is one of the leading enterprises which obtained boiler manufacturing license in china.
The factory is located in industrial district of beautiful xihua county, Henan Province. Marketing office is located in Zhengzhou City, capital city of Henan.
We have our own R & D team and cooperate with famous high-tech research institutes at the same time, which ensures our product in the forefront of technology and science.
With 62 years' experience in boiler design, production, installation and commissioning, We have formed an annual production of 2 000 tons of industrial boilers and 5 000 tons of pressure vessels. By the end of 20 18, we have exported to 86 countries worldwide and have successfully supplied tailor made solutions for over 100,000 customers.
Our main products are:
(1)WNS Gas oil fired steam boiler and hot water boiler
(2) DZL / DZH Coal / wood fired steam boiler and hot water boiler
(3) SZL Biomass fired steam boiler and hot water boiler
(4) YY(Q)W Gas oil fired thermal oil boiler
(5) YLW Coal biomass fired thermal oil boiler
(6) All kinds of pressure vessels
Yuanda Boiler has been committed to improving efficiency and safety of boilers to provide safe, energy saving and environmental friendly products. We look forward to making a brilliant future with you.

Yuanda boiler exhibits in the Canton Fair and On-site signing during the exhibition:
Henan Yuanda Boiler was invited to the 125th Canton Fair on April 15-19, 2019, Yuanda Boiler was unveiled at the booth of 2.1L07 in the large machinery and equipment exhibition area.
At the Canton Fair, the products of Yuanda Boiler received great attention from overseas customers. The average number of customers per day reached hundreds of customers. Customer from Argentina purchase one set YY(Q)W-700YQ 700kw gas oil fired thermal oil boiler and one set YY ( Q) W-350YQ 350kw gas oil fired thermal oil boiler, the deposit is paid in cash on the spot.
Henan Yuanda Boiler has exported to 86 countries and regions overseas with excellent quality and perfect service. The successful feedback of the project customers has achieved good results. Yuanda boiler is worth choosing!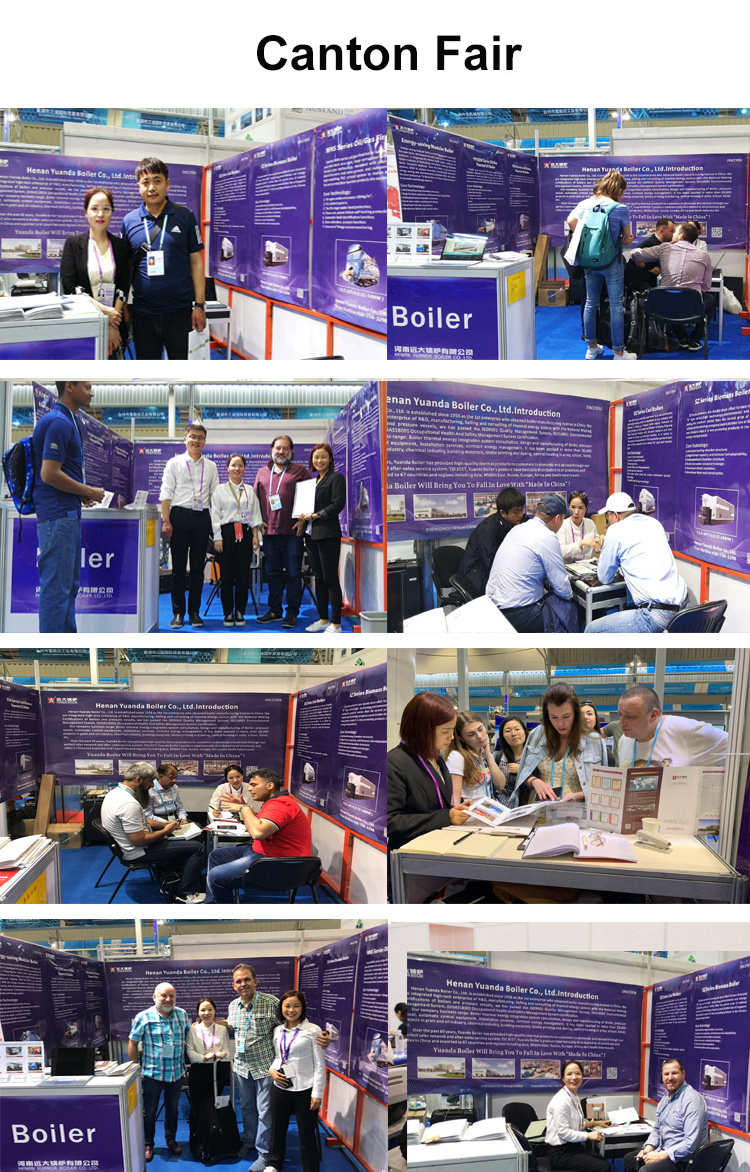 Part10.Contact Us