High Speed Precision Single Roller Cnc Spinning Machine WLL-SRS350
The light duty WLL series Cnc spinning machine is specially developed to meet the needs of small spinning parts in mobile lighting, commercial lighting, cookware, hardware, handicrafts, air conditioners, automobiles and other industries. It could save labor costs and also affordable.
It could also be equipped with manipulator which could do the automatic loading and unloading.
The Cnc spinning machine is very stable with mature technology and now is highly recognized by customers from all over the worlds.
It can also process threading, trimming, flanging and rolling at the same machine tool. The Cnc spinning machine can spin many materials such as carbon steel, stainless steel, aluminum and copper etc. It has solved the traditional problems such as lack of skilled workers. With advanced digital control, it is easy to operate.
The Cnc spinning machine can improve the production efficiency, machining accuracy and saving the cost of human resources. The Cnc spinning machine is the ideal processing machine for light, automobile, military, mechanic and other manufacturing industries.
Advantages of Light Duty Spinning
Metal spinning displays obvious advantages in terms of cost-effectiveness and flexibility. Savings in material and the possibility of creating any kind of form changes at low tool cost and in fast production runs make metal spinning one of the most competitive alternatives to other processes, such as deep drawing. The high work-hardening rate enables the use of more cost-effective materials, while nevertheless guaranteeing the stability of the finished article and the required increased strength. This results in an enormous savings potential in terms of material and weight. Metal spinning tools (spinning rollers) are primarily not bound to the geometry of the work piece. This means that changes in geometry can be made in virtually any areas of the work piece by implementing simple programming changes.
Light Duty Spinning Machine Product parameter
Parameter:WLL-SRS350
Max. Diameter of Material:350mm
Main Motor Power:3.7kw Servo
X Travel:300mm
Z Travel:380mm
Spindle Speed:4000rpm
Tailstock Force :10kn
Travel of Taistock:300mm
Amount of Tools:2+1/optional
Thickness of Work Piece (Al, Cu):0.5-2mm
Thickness of Work Piece (C.S) :0.5-1.2mm
Thickness of Work Piece (SS):0.5-1mm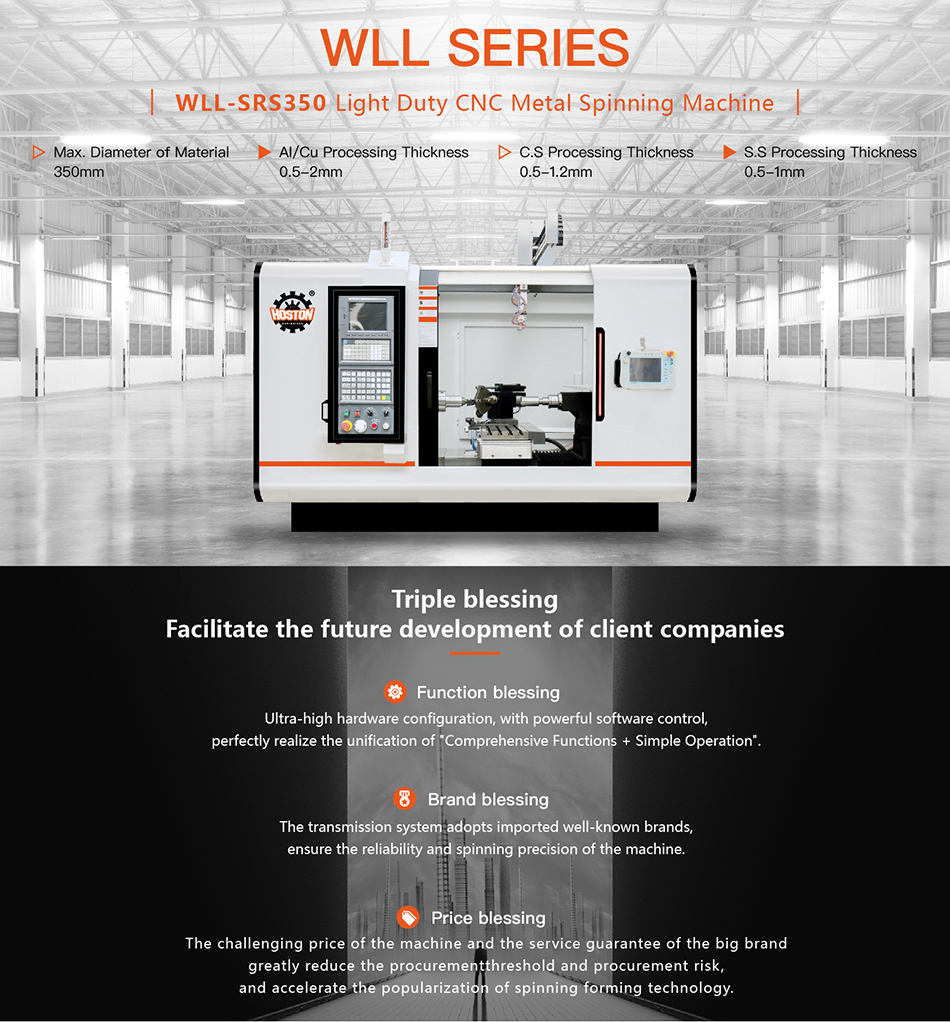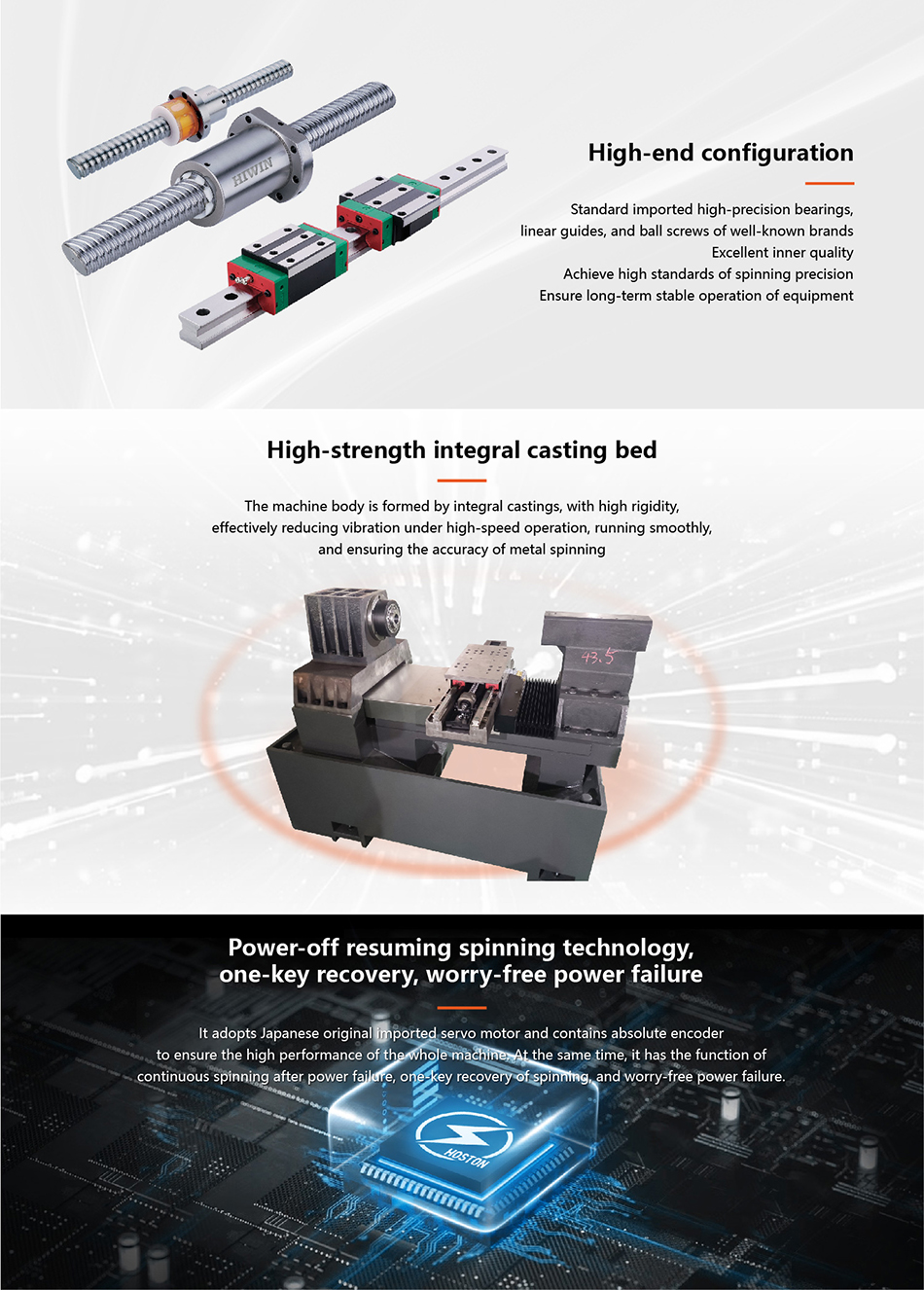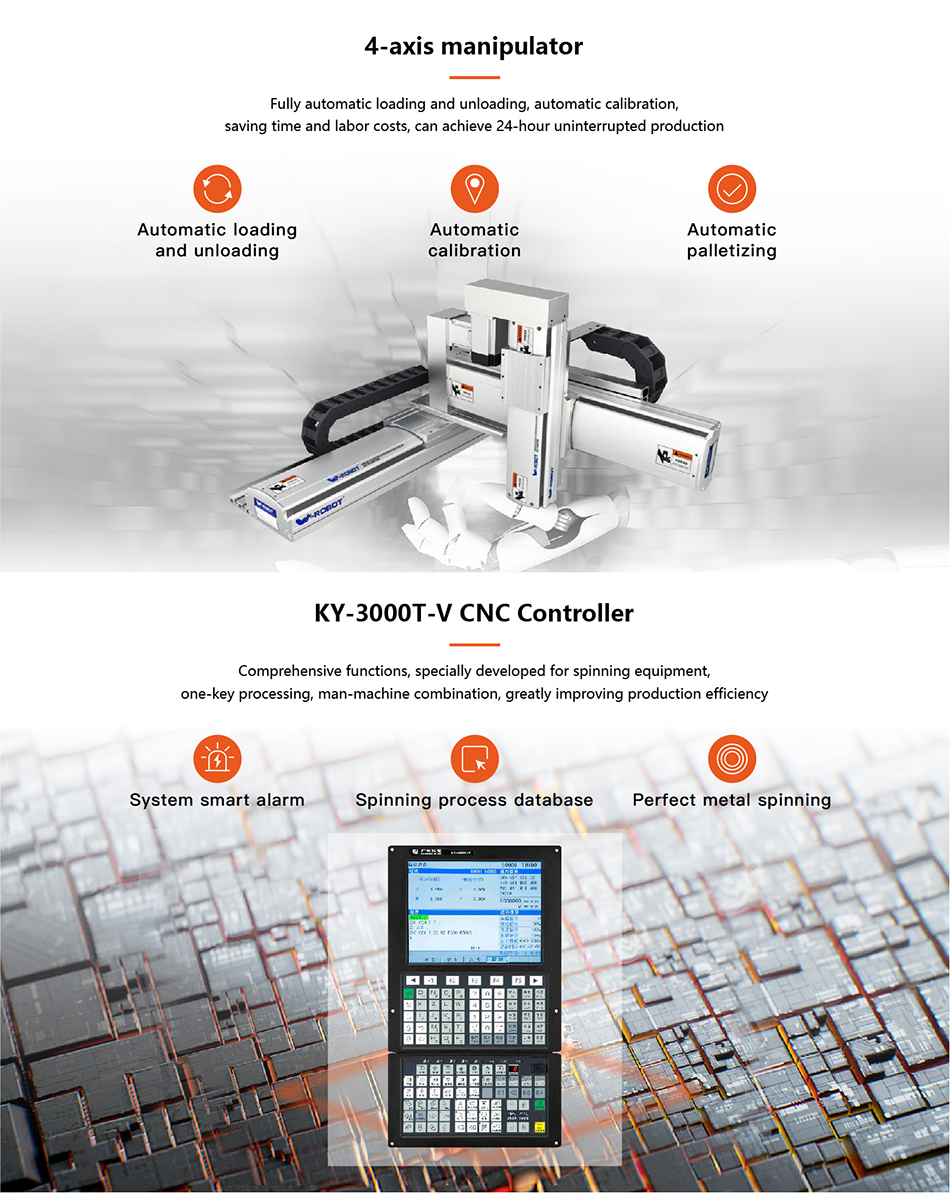 | | | | |
| --- | --- | --- | --- |
| Parameter | WLL-SRS350 | WLL-SRS450 | WLL-SRS650B |
| Max. Diameter of Material | 350mm | 450mm | 650mm |
| Main Motor Power | 3.7kw 伺服 | 4kw伺服 | 4.5kw伺服 |
| X Travel | 300mm | 300mm | 300mm |
| Z Travel | 380mm | 480mm | 480mm |
| Spindle Speed | 4000rpm | 4000rpm | 4000rpm |
| Tailstock Force | 10kn | 15kn | 15kn |
| Travel of Taistock | 300mm | 300mm | 300mm |
| Amount of Tools | 2+1/optional | 2+1/optional | 2+1/optional |
| Thickness of Work Piece (Al, Cu) | 0.5-2mm | 0.5-2mm | 0.5-2mm |
| Thickness of Work Piece (C.S) | 0.5-1.2mm | 0.5-1.2mm | 0.5-1.2mm |
| Thickness of Work Piece (SS) | 0.5-1mm | 0.5-1mm | 0.5-1mm |