Hydraulic Mill Roll Stand
Products Description :
Hydraulic Mill Roll Stand :Symmetrical structure, can carry two craft paper at one time, which can work without brake.
Reel paper lift-lower, clamp, loosen, movement, contraposition operated by hydraulic pressure. feeding craft / reel paper quickly.
We HUATAO GROUP could also supply other Auto Corrugated Cardboard Machine Spare Parts and Carton Machine Spare Parts, like
1. Corrugator Belt / Corruggator Belt
2. Mill Roll Stand / Electric Shaftless Mill Roll Stand / Hydraulic Shaftless Mill Roll Stand
3. Slitter Cutting Blade / Thin Blade / Sliting Cutting Blade
4. Crinding Wheel / CBN Stone / Grinding Stone
5. Spray Humidifier / Spray Humidification System / Water Mist Spray Shower
6. Corrugating Rolls / Cororugated Roller / Corrugated Cardboard Roll /
7. Glue Roll / Glue Corrugator Roller
8. Pressure Roller / Cardboard Press Roller
9. Crush Wheel / Sun Wheel / No Crush Wheel / Polyurethane Crush Wheels
10. Die Cut Anvil Cover Mat / Anvil Cover Mat for Die Cutting Machine / Flexo Rotary Die Cut Anvil Cover / Rubber Anvil Blanket on Slotter Rotary Die-Cutter
11. Automatic Splicer
Hydraulic Mill Roll Stand Technical Sheet:
Working width:1400-2500mm
Base paper rise up and down adopt hydraulic to drive, meanwhile two base paper can be changed at same time.
Base paper tensioning and loosing, left and right movement adopt hydraulic movement.
Base paper support adopts expansion chuck
Tension control adopts single-point / double-points pneumatic brake .
The holding diameter max/min: Ф1500mm/Ф300mm
The max holding paper weight :2500kg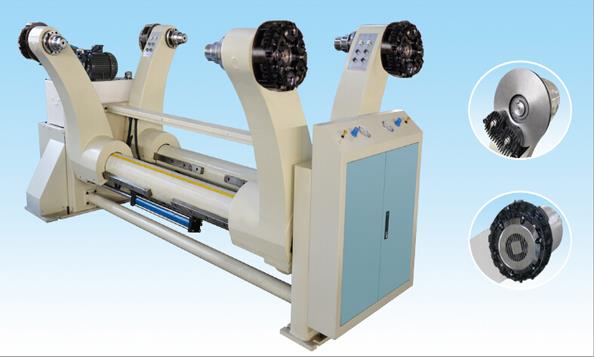 Our Service:
1. Longlife relationship
We like to think that our customers are part of our family, and as such we take care of them with sincerity and the attention that they deserve.
Our biggest commitment is to create longlife relationships and give value and support to those who believe in our ideas.
2.HUATAO help you reduce the cost.
HUATAO can help you to find the suitable goods with reasonable price base on good price. And arrange the shipment with cheaper and safe the flight and steamship. And do the [Certificate Of Origin[ , [ FORM E" , [FORM A" AND [ FTA" for customers for reducing the import tax, other certificates also can be made as your requests. We also can help you to find other products in China, and examine goods etc, if you need. You cooperate with HUATAO = Cooperate with CHINA.
3. 24 Hours service
HUATAO set up the special Department to provide efficient assistance to our customers .Specialized person to provide service in 24 hours